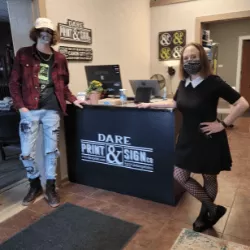 During your formidable teen years, it can sometimes be hard to truly realize what your true passion is. Some high school students work various jobs or have internships- but if you're lucky you find an opportunity that makes you realize your passion is something you weren't expecting. 
For Ashton Welch, a student in the Cañon City High School Graduating Class of 2022, this is exactly what happened during his graphic design internship with Sagentic Web Design and DARE Print & Sign Co. Although he had taken graphic design courses at Cañon City High School, it was his internship that made him realize he wanted to get serious about graphic design.
"I had no idea how to get this [graphic design] started," Welch says, "Erica (Creative Director at Sagentic Web Design and DARE Print & Sign Co.) really showed me how to do everything."
A Love For Graphic Design
His internship wasn't his first brush with graphic design. During his sophomore year, Ashton took a graphic design course and, on a whim, entered a graphic design competition. He ended up winning, which made him start thinking about graphic design as something he was really interested in, and something he was good at.
In the year since, he has continuously worked on improving his skills. 
A Wide Range of Experience
During his time as an intern with Sagentic Web Design and DARE Print & Sign, Ashton's duties ranged from logo design and business card design, to apparel design and brochure design and even learning entirely new design software - Adobe Illustrator.
With the large quantities of signs and marketing materials DARE prints on any given day, Ashton was able to get a wide range of experience with all different types of print mediums. Banners, large business signage and window clings are just a few of the projects Ashton was able to help design. 
Erica Haferkamp was more than happy to take Ashton under her wing and teach him everything she could in his time around the office. For as much as he learned, Sagentic and DARE greatly benefitted from his presence in the office as well. 
Ashton thrived and grew immensely during his time at Sagentic and DARE. He built upon his existing skills and learned new things that he hadn't been exposed to before this internship. So much so, that he decided to start a business of his own. 
A Business Startup Of His Own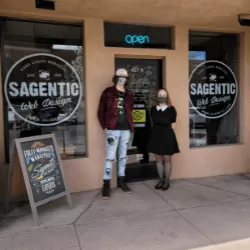 With the guidance from Erica, and the newly ignited passion for graphic design, Ashton founded SickaMok1 Clothing, a local snowboarding apparel line. The clothing features original designs by Ashton himself.
But this isn't just any clothing company-it's a clothing company with a mission. Ashton is passionate about giving back, which is why a portion of all of his profits through SickaMok1 go to the American Foundation for Suicide Prevention. 
"I feel very fortunate to have equipped Ashton with the skills and resources to help him start his business in a very real way," Erica says. 
With his growing skills in graphic design, in addition to his own clothing startup, Ashton is already working on creating logos for other small businesses in the area who have recognized his talent and eye for design.
No matter what Ashton decides to pursue upon his graduation next year, it's clear he's going to do great things. His determination, work ethic and strong design skill during his Sagentic Web Design and DARE Print & Sign Co. internship, proved that the sky's the limit for Ashton Welch.