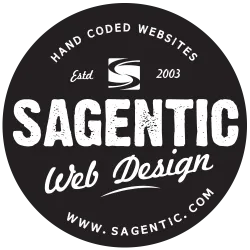 Sagentic Web Design was started in 2003 by two Marines that had a passion for web design and creativity. The internet was still fairly young when we started building websites for forward-thinking small and medium size businesses. Our approach then is the same as it is now - develop quality and custom websites for clients.
Designing websites back then was anything but easy. Web browsers were pretty much terrible. Sometimes it seemed like you had to trick them into cooperating with whatever look or feature you wanted to create. Coding languages were constantly evolving and most of the time, browsers were not keeping up with the technology. Sagentic Web Design made websites work through it all.
We welcome new web design clients to visit us at our offices in downtown Cañon City, Colorado to discuss their needs or reach out by phone, email, or messenger. You'll always get an honest assessment about what you need for a successful website.
Full Service Web Design and Management
Sagentic Web Design also recognized early on that clients who pay for websites that can't keep up, will look elsewhere next time - leaving us perpetually hunting for new clients in a downward spiral of narrowing margins and diminishing expectations.
We want to build relationships with our clients. This is why we continually support our clients and become their dedicated web developer. We want their websites to evolve not only with new technology, but also with their business.
Our driving philosophy is to create a great relationship with our client. We want to know your business and your goals. We'll devise a plan to help you accomplish those goals and stay with you throughout. We don't design websites and hand them off. We want to help you effectively manage your website and so you'll have an edge over your competition.