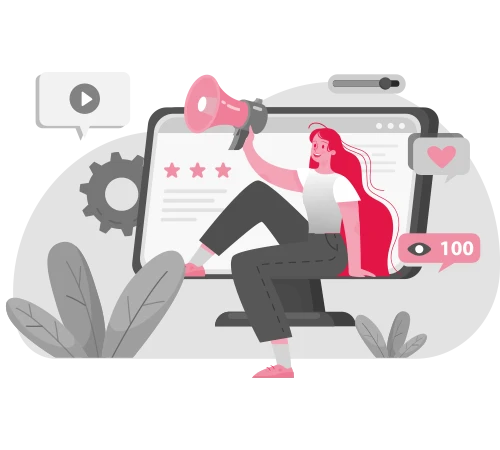 Most business owners realize they need to have a social media presence. The problem is having the time or the knowledge to know what to post, when to post it, or where to post it.
Many business owners will start with good intentions and then abandon their social media profiles for months at a time and sometimes forever! Posting quality content consistently takes a lot of time and effort that some small businesses just don't have.
Social Media Management, along with a good Content Marketing plan, is way more cost-effective than most other forms of advertising! Small businesses and non-profits often have to do more with less when it comes to their marketing budget.
Social media management allows you to experience significant results when it comes to lead generation and conversion. This eliminates high out of pocket costs that come along with traditional marketing tactics like billboards or TV ads.
How Can Sagentic Web Design Help?
Sagentic Web Design will develop a strategy with you for posting to your social profiles every month. We can coach you on a running solid social media strategy or we can run it for you! We are creative designers and social media specialists that will make your posts noticeable with custom graphics and text.
Sagentic Web Design has the skills and knowledge needed to ensure that your social media efforts are a success.
What is Social Media Management?
Social Media Management is the process of managing your online interactions and content across social media channels like Facebook, Instagram, LinkedIn, YouTube, and Pinterest. Social Media Management goes beyond just posting updates to your company's social media profiles.
It also includes engaging with your audience and looking for new opportunities to increase reach and visibility. A big part of Social Media Management is creating and publishing social media content across your company's profiles.
Social Media Management with Sagentic Web Design
Many small-business owners have resorted to hiring a younger and inexperienced social media user to manage their social media presence. In this scenario, you are leaving your messaging to someone who knows how to take pictures of food or selfies, but isn't up to speed on on social media actually works in terms of getting people to interact with you.
Liking a social media post is not the same as a completed sale or engaging in your services. You'll need more than likes to have an effective social media campaign.
The social media experts at Sagentic Web Design are going to bring expert marketing skills, dedication, and knowledge to the table.
This is sure to help your business gain the exposure it needs, maintain that exposure, and experience growth. The role of your social media manager at Sagentic Web Design is to provide the following services:
Provide training to business owners and others who intend to use social media as a marketing tactic. A good manager will want you to know what they are doing and why. Although they may be handling the overall marketing, they will still give you a breakdown and explanation of their services.
Assistance in building a social media presence with customized graphics to match your branding that is fine-tuned to suit your business needs.
Making and maintaining a schedule and routine for the many posts that will be made on the various social media platforms.
Building links, translating digital information and providing custom graphics and content are also some of the essential services that will be provided to you.
Your Entire Online Presence Matters
Building presence for your business online is no longer as simple as having a good ranking with search engines. For your business to be successful, you must have presence on multiple social media sites.
Keep in mind that social media is definitely a broad term. It really covers a great deal of websites. When comparing social media sites, you will find the most common component is the fact that you have the ability to interact with other site visitors. This interaction is what will help you get the exposure you need and help put your business in the spotlight.
Here is a list of some of the popular social networks that Sagentic Web Design can manage for your business. If you have a special request for a different network, please let us know:
Facebook
Pinterest
Instagram
LinkedIn
LinkedIn Company Pages
Google Business Profile
Bing Places For Business
YouTube
Vimeo
With Sagentic Web Design, you can expect to have all of your graphics be professionally designed and branded with your logo. The posts are thoughtfully written, keyword rich, and include all of the relevant hashtags to help increase your exposure in social searches. All links that are published to social media are designed to increase the traffic to YOUR website, not someone else's blog.
Other Marketing Services