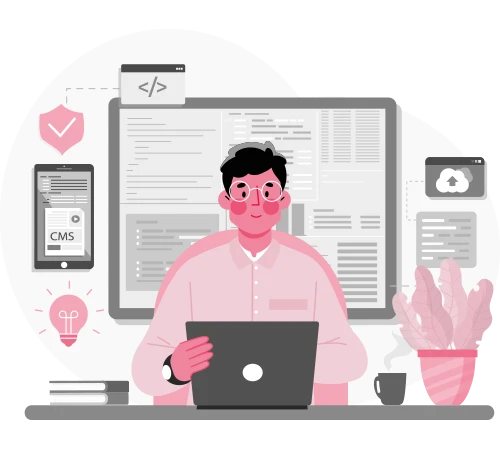 Every client, regardless of the size or scope of project, can expect nothing but the best web design and development, customer service and professionalism from the experienced, dedicated and marketing savvy designers at Sagentic Web Design. 
We love what we do and it shows in our work. We obsess over the finest details of web design and usability to provide creative solutions that achieve your goals.
Since 2003, hundreds of businesses and organizations trust Sagentic Web Design to handle their online presence to include their website, social media , online maps, business directories and more. We care about your online reputation and can help you manage reviews and feedback for your business.
Business Websites, Uncomplicated
Developing a website is more than just building a website and launching it. It's about tying your social media, map listings, business profiles, and more to your website to develop a much broader organic marketing solution for your entire online presence. It's about having the latest security upgrades and the technology powering your website.
It's about keeping up with what the search engines want out of your site as well as the users of your website. It's about getting found, noticed, and engaged with by your audience, clients, users, employees, and more.
What does a Fully-Managed Website mean for my business or non-profit?
At Sagentic Web Design, we aim to create a modern and user-friendly website that appeals to your target audience and drives traffic. Our services include registering and maintaining your domain, securing your website with 256-bit SSL certificates, and optimizing your website for search engines and business directories such as Google Maps and Bing Places for Business.
We also provide Google Analytics monitoring to help you track the performance of your website, and keep your website software up-to-date with regular updates. Our content creation services include writing SEO-rich content with keywords and phrases relevant to your business, as well as establishing social media accounts and providing social media management software.
Additionally, we offer email and cloud storage services with Google Workspace, along with continuous support and resources to help you make the most of your website. We do not charge by the hour, page, or support request and provide full service and support throughout the year.
Custom and Functional Websites
Don't want something out of a box? No problem. At Sagentic Web Design, we only specialize in custom web design solutions for our customers! We get you up and running and then help you manage your site long after the site is built. Not only will we build your site, but we can solve your web hosting needs as well.
Websites shouldn't just look pretty. Your company website needs to act as a growth engine, powering lead generation and sales nurturing. We design and build custom websites to impact sales, advocacy, and lead generation. At Sagentic Web Design in Cañon City, Colorado, our passion is to provide innovative, highly functional, visually appealing, and feature-rich websites for our clients.
Free Estimates - Easy To Understand and All-Inclusive Pricing
We'll give you everything you need to have your website on the internet. We don't tie your hands - there are no packages to choose from - just an all-inclusive web design solution that doesn't limit what you can and can't do. 
How much does a website cost?
This is the question that is asked the most. It's simple. With Sagentic Web Design, you tell us what your needs are and we'll give you an estimate of what it will take for us to become your web design agency.  You can pay either an annual price or a monthly price for your annual contract with us.
Most small to medium sized business could expect to pay between $150 and $500 a month for you to have a full service web design firm representing your business year-round.
Other Marketing Services