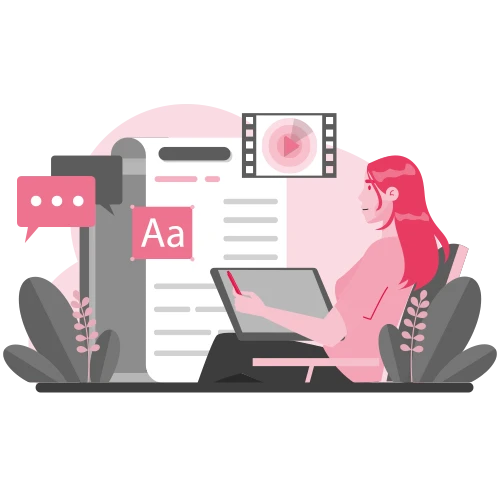 Having a strong online presence starts with being easily discoverable through search engines. This is where Search Engine Optimization (SEO) comes in, which involves improving the ranking of your website for relevant keywords and phrases in organic search results.
Our team at Sagentic Web Design is equipped to handle various SEO techniques, including creating high-quality content, keyword optimization, and building backlinks, but we also offer content marketing as an additional service to our clients to help drive profitable customer action and strengthen their online presence.
With a Content Marketing plan from Sagentic Web Design, you'll get the following benefits:
SEO Content Marketing Strategy
At Sagentic Web Design, we partner with our content marketing clients to develop an effective content strategy that leverages their existing website content. Our team works to enhance all pages, connecting them through strategic anchor text links. The anchor text serves as clickable words that direct users to other relevant pages on the website.
Our professionals conduct comprehensive keyword research to identify the most beneficial keywords and phrases to include in the website's content. These keywords and phrases are incorporated in a manner that is both SEO-friendly and reader-friendly, providing search engines with a clear understanding of each page's purpose while enhancing the overall user experience.
We prioritize ethical SEO practices and avoid any outdated techniques such as keyword stuffing. Our goal is to drive meaningful, profitable customer engagement through our content marketing efforts.
Professional Writers
At Sagentic Web Design, we take pride in our team of professional writers who have extensive writing experience and the necessary education. Our writers are trained in both writing and SEO, ensuring that your website content is both optimized for search engines and user-friendly.
By delivering error-free, high-quality content, we increase the likelihood of your customers sharing your business with others and increasing brand awareness. Our content is designed to be easily discoverable, easily understood, and provide solutions for your customers through informative and relevant information.
As a major part of building effective websites, we strive to create content that is engaging and shareable on social media, helping you reach a wider audience. With Sagentic Web Design, you can trust that the content we produce for your website will help your business grow and achieve a high search engine ranking.
Content Enhancement
Your website content is the first impression your potential customers will have of your business, so it's crucial that it's both error-free and compelling. Our team of experienced writers, equipped with relevant education and training in Search Engine Optimization (SEO), will craft content that effectively conveys your message, engages your audience and boosts your online presence.
We'll optimize your content for important keywords and phrases, and use them to create a seamless navigation experience for your website visitors. By adding meaningful content, links and questions-answers to your FAQ section, we'll ensure that your website is not only user-friendly but also search engine friendly, helping your business reach new heights of success.
Educate Website Users With Articles
Elevate your website to new heights with high-quality, informative articles related to your business. At Sagentic Web Design, we are your go-to experts in ensuring that your articles are relevant, engaging, and in line with current trends. Our content marketing services offer a powerful tool to differentiate your website from your competitors and establish yourself as an authority in your field.
By providing valuable insights and information on your offerings directly on your website, you can quickly gain the trust and respect of your target audience. Whether you want to craft your own articles or let our team of content marketing professionals do the work for you, Sagentic Web Design has a solution.
We believe that content is the key to a successful website, and we are committed to making sure your articles are nothing short of perfect. From style and tone to relevance and SEO optimization, we'll work with you to create a website that is both educational and captivating. Transform your website into the information hub you've always wanted with Sagentic Web Design.
Social Media Promotion
By promoting your articles on social media, you can reach a wider audience, attracting potential customers who are interested in your offerings. Our scheduling software will ensure that your articles are posted consistently and at the optimal times for maximum engagement and visibility.
This not only helps to bring traffic to your website, but also increases brand awareness and helps establish you as a leader in your industry. With the right targeting, you can attract individuals who are genuinely interested in your content, leading to increased trust and conversions.
In addition, promoting your articles on social media helps to diversify your online presence and strengthens your brand's digital footprint. Social media is a powerful tool for reaching out to your target audience and can help to create a strong community around your brand.
At Sagentic Web Design, we understand the importance of content marketing and the role it plays in driving traffic, conversions and building brand awareness. Let us help you elevate your online presence and achieve your marketing goals through our content marketing and social media management services.
Other Marketing Services